Oliver B. Johnson, popularly known as "Coach OBJ" is a Repatriate (not a expatriate), Father, Grandfather, Teacher, Husband, Brother, Mentor, Son, Coach, Peace-maker, Consultant, Therapist, Sportsman, Youth-worker, Author, Educator, Program-manager, Prolific-traveler, Uncle and Friend. Born in Washington, D.C., USA on 7th April 1940 he spent his early years with his loving parents and siblings in urban D.C. and vacation periods on the farms of his grand parents.
Coach OBJ graduated from Dunbar H.S. in 1958 and enlisted in the U.S. Army in 1959 where 2 years of his service was spent in Germany. Oliver was 'honorably discharged' in 1962 and decided to further his education by enrolling in Olympic Jr. College, Bremerton, Washington later transferring to Pacific Lutheran University, Tacoma, Washington where he received a BA in Education and a Government GS 6 Corrective Therapist Rating.
In 1967 Coach OBJ joined the US PEACE CORPS Voluntary Services where he served as an Agricultural extension officer in Meru, a Surveyor in Eldoret, a Therapist at the Borah Road Children's Orthropeadic Clinic in Nairobi and a Basketball Coach/Player all in Kenya, East Africa.
Coach OBJ started playing Basketball, American Football, Baseball, and Running Track from (age 6) when he started going to School and being able to go to the Public Parks in his D.C. Community. Coach OBJ says his success in life (Sports) is because of the grace of 'GOD' and the prayers of his family and many friends that his career covers so many Sports, i.e. Lawn-Tennis, Basketball, Football and Boxing in the Army and Soccer and Rugby in Kenya. You can see Coach OBJ playing Basketball with the Veterans and even some of the players he is coaching. Coach OBJ is by far, the oldest active Basketball Player in Nigeria today.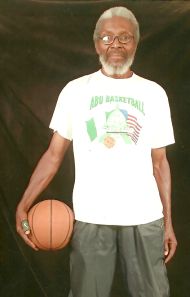 Since his first 21 day "Nigeria-visitors-visa" stop-over in Lagos, in December 1969, Coach OBJ has been actively involved with Basketball and has been blessed to have influenced the lives of many Nigerian Youth; he was the first full-time National Basketball Coach (1971 to 1985) and the pioneer of Nigerian Female Basketball for the 3rd All African Games held in Lagos, in 1973. Col. Sam Ahmedu (rtd) in his book "Basketball in Nigeria" page 44 said that Coach OBJ's contribution to the game in every category stands out clearly and can never be quantified. Nigerian born Hakeem 'the Dream' Olajuwon refers to Coach OBJ as the father of Nigerian Basketball. Mentored himself by legendary American Coach John McClendon Jr. Coach OBJ has taken Nigerian Teams to many African Nations, China and the USA. Since 1978, Coach OBJ has been based at Ahmadu Bello University (ABU), Zaria where he is Basketball's Technical Adviser.